Hello! By end of February, before the pandemic hit, I released my first paid module on DMsGuild. I also started my TTRPG Twitter account, with incredible ZERO followers (as expected). Nobody knew me. Many still don't! But I'll share with you my journey from March, when I got my first sale, to today. A TLDR will be available at the end of the post, because it's going to be a long one. I hope it is informative, though. I hope that some of these insights help you in your own journey! I will share screenshots and graphs to make this also somewhat visual. If you want a guide to DMsGuild instead, check this one from Justice Arman.
NOTE: This is not a generalist experience. Every creator experiences their results in their own ways. There are more ways to success!!
Before joining Twitter, I read the amazing Self-Promo Guide by @AshleyMayWritesand it helped so much! I put a lot of efforts in managing my Twitter (more on that later) and got to 100 followers in 10 days. When I released The Great Trial back in Feb 29th, it took me 4 days to get my first sale. It was like screaming into the void. I had around 100 followers but my reach was short. I was pretty much alone although I recall getting support from folks back then with some RTs. Now, I'm en route to 1000 followers and here's my first key point: I strongly recommend that you to invest time and effort in your Twitter presence. Ashley's guide already provide useful insights. Find some more below.
Starting your TTRPG Twitter account
I joined Twitter with not a single follower, which is how social media work when you join. I thought: "How will people know I exist??" I then started by following major accounts from TTRPG. Then Twitter suggested me some more, which I followed. I started to like, comment, RT, interacting with folks. I also tried to find content to post. It was HARD. A LOT of work. I made an effort to participate in all #FF and I managed to do so. I missed only but a few. When I reached over 220 followers, I got stuck because I stopped investing time on the account and I thought that I would gain followers naturally. Wrong. After some tips I received from the people from the Lounge (more on that later), I managed to reach 300 and continued to grow consistently but actually putting efforts in the account.
March was over and this was my results: I had earned USD 12.00 with 4 sales. Not really great.
What was next?
So there I was, one released product, alone in the community aside from my small network on Twitter. I started to notice some successful creators and I paid attention. In April, I DMed Anthony Joyce, trying to get some insights. He then referred me to a Discord server, the Lounge, where I found a place full of other, more experienced creators with the will and motivation to help me. It was game changing.
The Lounge
In there, I started to interact with the people and asked questions, trying to learn as much as possible. Joining this server was the best thing that happened to me in my TTRPG career, as it would boost me to levels I didn't know I could reach (again, more on that later). So here's my second key point: find a community!! The Lounge is for people that already released products but another excellent options is the Storytelling Collective. It's a GREAT place to network with passionate creators or aspiring ones, and the course is a true gem. Amazing content! I went through it in November and I highly recommend doing it maybe before you release anything. Use the Workshop to release your first product 🙂
I also applied to a project called Cities of Myth, from Realmwarp Media. My pitch, which was beautifully improved by Jack, an amazing editor, got accepted with a deadline for end of July. I was thrilled! The product would be published on DTRPG.
Because of the pandemic, and also to try to increase my sales, I reduced the price of The Great Trial by 90%. April ended and this was my result: I had earned USD 4.00 with 6 sales. So I sold more than in the previous month but earned 3x less. It wasn't getting any better.
Great! I was not alone anymore! Now what?
It was May and I still felt like screaming into void. I was told to put out another product. So I took my 2018 PWYW, which I released without knowing anything back then (the proof is that it got blocked) and revamped it. I hired an editor (Jack), did the layout again and released it as a paid product. Nice! I had now 2 released product. Since I mentioned editors, here's the third key point: hire editors! Work with them! Never release products without using their services! They greatly improve the quality of your content.
Still in May, I translated my first product to Portuguese, as I'm from Brazil, and I wanted to test the Brazilian public. I also put out a tiny Map Pack providing a generic world map in 4k resolution. More on maps in a bit.
Then Play it Forward came. An effort from DMsGuild and WotC to help content creators during the pandemic, in which they both gave up on their royalty share (total of 50%) for two whole weeks! This was great! Many people benefited from that. As I had only 4 products out, I managed to more than double my revenue from March but it wasn't anything spectacular: USD 24.15 with a total of 26 sales across my 4 products. Not too bad, but not spectacular.
Maps! they helped me a lot!
Let me quickly talk about maps. For my first product, I considered hiring a cartographer to map my stuff, but one of them mentioned that I could try to do them myself and provided some example of tools that I could use. He did that because I mentioned that I was starting out and I had a tight budget. This was an excellent advice! While the maps I released in my first version of The Great Trial weren't masterpieces, they were good enough to visually show what the DMs needed to run the module. I tried out Dungeon Painter Studio (which I did 2 dungeon maps for the product with it), Wonderdraft, Inkarnate and DungeonDraft. I dropped WonderDraft once I saw what Inkarnate could do and I also dropped Dungeon Painter Studio and started using DungeonDraft instead.
In March, I did 32 maps with a month of Inkarnate Pro. I put all of them in my Pinterest, and started to promote it. In April, I got my first commission at USD 75 and with that, I basically earned 3 years of Inkarnate's subscription. Since then, maps have been a decent part of my success, which I'll get in more details later on.
Back to the topic. By now, I had been writing like crazy for the Cities of Myth project, a product Jack and I called The Isle of Endless Fog. So June came, and this was the result: USD 17.38 with 14 sales. Worse than May but better than March. Ok. Let's not give up!
By then, trying to better understand the business, I learned that it is one of longtail and snowballing. I was puzzled by those terms, but they simply mean that publishing on OBS (DTRPG and DMsGuild) is something that works in the mid-long term as opposed of fast results. In addition, you need several products which will add up small amounts every month, over time, and then success comes. I loved to hear about this!
Besides ending up with 35k words, I did dozens of maps for The Isle of Endless Fog. We put 11 unique maps (20 in total) in the main product and decided to put out a Premium Map Pack, which would rather have 32 unique maps with 86 maps total. Once I delivered the content to Jack for editing, I translated my second product, Maraxax's Domain, to Portuguese. And released it in July. On the last Friday of July, The Isle of Endless Fog, along with its Premium Map Pack, were released and Realmwarp sent an email with a 40% discount code to all its KickStarter backers.
That Friday was a thrill! 8 copies sold on the release, over $ 23 earned! This was new to me! The month of July ended quite well: USD 82.80 with over 3 dozens of sales.
I could slowly see the effects of the longtail/snowball. It wasn't much, but it greatly motivated me to continue. August came, along with the Rime of the Frostmaiden announcement. I wanted to do something related to it and in discussion with another Brazilian creator, Rodrigo Kuerten, we came up with the idea of doing Encounters in Icewind Dale. He couldn't participate in its creation so I went for it. I released it on August 21st, more than three weeks before RotF release. The release day wasn't great but by the end of the month, it had sold 23 copies! Woohoo!
This is what August looked like: USD 92.18 and 3 dozen sales. An 10% increase! I was happy!
A Glimpse of WotC Intellectual Property' power
I used the maps I made for Encounters in Icewind Dale, along with the one of the following release, The Great Trial: Frostbite (released in Sep 10th with no sale within Sep), and with those, created 2 map packs. I now had 9 products! Encounters in Icewind Dale started to sell like… a lot! Hit Copper in 16 days (my first Metal), Silver in 3 weeks and Electrum in 41 days! I was AMAZED! So even though my latest release didn't sell, I was still trying to understand the whole situation. Some factors that contributed to its sales: during September, I was in the Hottest Arctic products banner on DMsGuild for quite some time, I got into 2 arctic sales form the website so I believe those things helped. I also promoted it a lot and for the first 3 weeks, there weren't similar competitor products, so it worked well.
This was my September: USD 627.69 over 200+ sales! I couldn't believe that.
During September and October, I worked with The Old Goat and James Dodd on a product called The Adamantine City of Tarondir. I was the Project Manager and Cartographer, they were the writers. I did some writing too though. I created MANY maps, including sewers maps at the request of Realmwarp, who published some of my map packs. I also got my first Fantasy Grounds conversion. I used the maps from Tarondir product and released 2 packs. For the sewers one, I got paid a generous amount as a flat rate from Realmwarp. I also released a one-page PWYW adventure for Halloween and I had some products on Halloween sales. This PWYW product was created under "The Great Trial" banner. It was featured in DMsGuild newsletter and got over 800 downloads in 2 days, becoming a Copper in 5 days. In the meantime, the RotF train was slowing down. I also did another map commission.
So October ended up like this: USD 431.94, which is worse than September, but due to the flat rates, the month ended at 695.42, beating September! The feeling that took over, besides excitement, was: "This isn't real. It will not hold. November will suck". During October, I was invited by Isaac Mandagie to participate in the RPG Writer Workshop, now called Storytelling Collective, which would happen in November. I decided to join mainly for networking and visibility but also to find out what I would learn, as I had already release quite some products. Before November, I did 17 unique maps, a total of actually 130 maps for my RPGWW product, Encounters in Barovia.
Once November started, I was fully focused on writing and the RPGWW lessons. I wrote 12.5k words in a week and sent the stuff over to the great Matthew Wulf for editing. In the meantime, I released 2 Barovian map packs from the 130 maps I did (17 unique) and I set up the layout on Affinity Publisher for Tarondir and Encounters in Barovia, as I would release both products by the end of the month. I hyped both of them here and there, I really put out an effort to make them visually look cool. Well, Tarondir, although it delivers a city-setting with an urban adventure, 38 NPCs, 80 plot hooks and 35 unique maps, with over 130 maps in total, sold only 7 copies. But Encounters in Barovia… Well. Let's talk about it in a bit. On Friday 13th, Tasha's Crucible of Everything was released, an effort of over 25 creators, myself included. It reached the #1 Most Popular product a couple of times but hasn't left #2 since.
I hyped the product in Twitter, in Curse of Strahd subreddits, Discord servers and Facebook groups. I got some nice initial engagement, which gave me hope. However, I couldn't possibly wonder the reality. Check the release day, which was actually on Black Friday: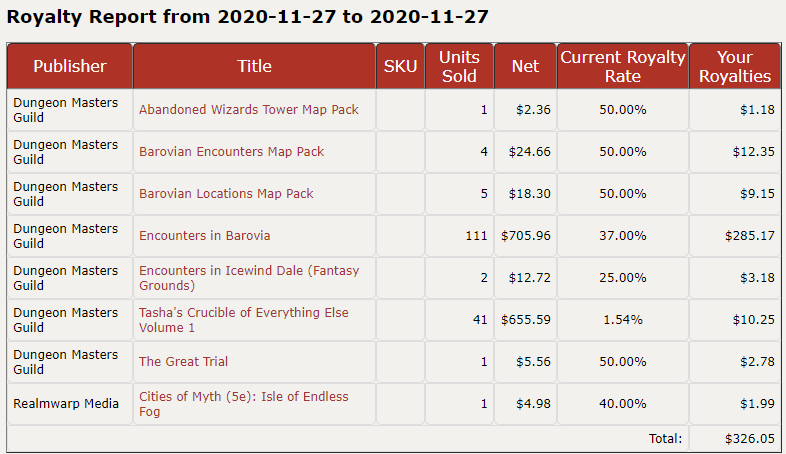 Over $ 300! It hit Copper in 7h, Silver in less than 13h and Electrum in 9 days. It's currently en route to Gold. On the next day, it reached the #1 Most Popular spot, but only for 12h, dropping back to #3 and slowly going down the Top 20. It's been sitting at #14 for a while now. I then decided to test Ravenloft again, and right away started to work on another product: Encounters with the Dark Powers. I invited the same editor and Curse of Strahd consultant who worked with me on Encounters in Barovia. We had 17 days to release the product. A tough challenge!
But first, here's November: USD 1,136.50 with nearly 1000 sales O.o
I was baffled, uncapable of understanding the situation. It was by far NOT was I expected when I started back in February. However, the image below can already give you a taste of the longtail/snowball effect working rather well.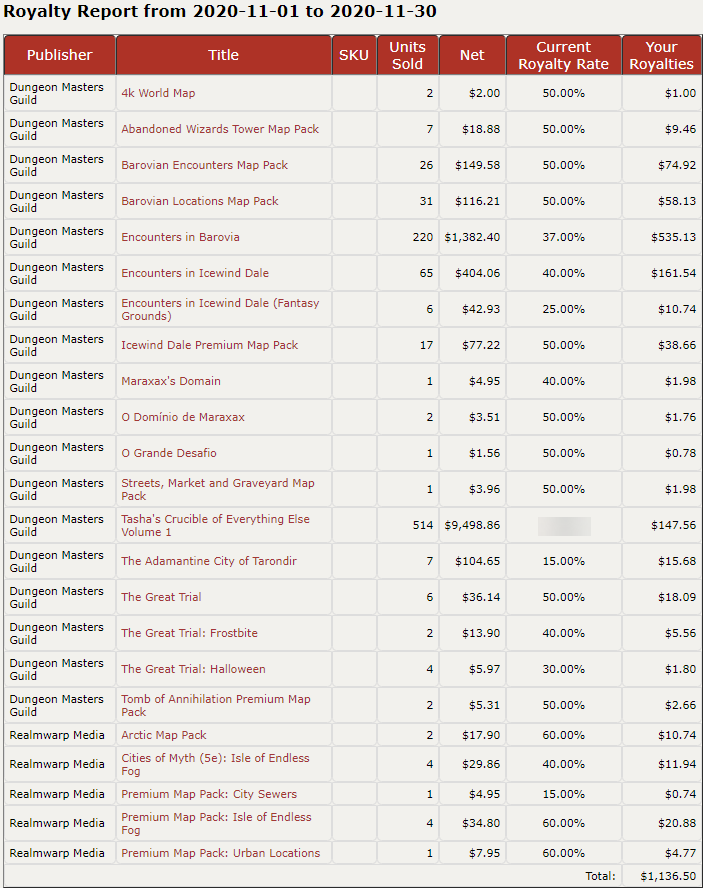 Well, of course my obvious logic and rationale was: everyone say that December isn't good for sales, and there is absolutely NO WAY in hell I can beat November. But still, let's get to work! So I started to provide glimpses of the upcoming products in the same places I hyped Encounters in Barovia. My first preview got nice engagement and some people wanted to know when the product would be released.
I then posted the cover and linked my website Contact Form, asking people to fill it to be notified when it would be released. The cover was a success, with over 500 upvotes on Reddit and over 130 people signing up for a release notification, many with excited comments!
Then came the anticipated Dec 15th. I sent a customized Newsletter to over 130 people and promoted the product like any other. I also bundled Encounters in Barovia, the new release and Barovia Notice Boards from Christian Eichhorn. Here's the release day: USD 418.72 from Royalties plus 48.78 from Affiliate sales, a sum of $ 467,60. Once again, I couldn't believe what my eyes were seeing. I hit Copper in 6h, Silver in less than 12h and Electrum in 5 days. on the release day, the product reached #1 in both Most Popular ribbons (all products and under $ 5). It's now on #10 for the whole website (non-Adept) and it remains the most popular product under $5.
Do you recall when I mentioned about the power of WotC Intellectual Property? It's QUITE powerful. Here's a graph that shows how much I made from non-IP stuff and how much I made from linking product with WotC's IP.
In December, I also joined the Affiliate program. It's the 30th, so there's still 36h to go before the year ends, so these results will improve by just a bit: USD 2,090.00 with over 1,000 sales. Over 40% of my year's revenue.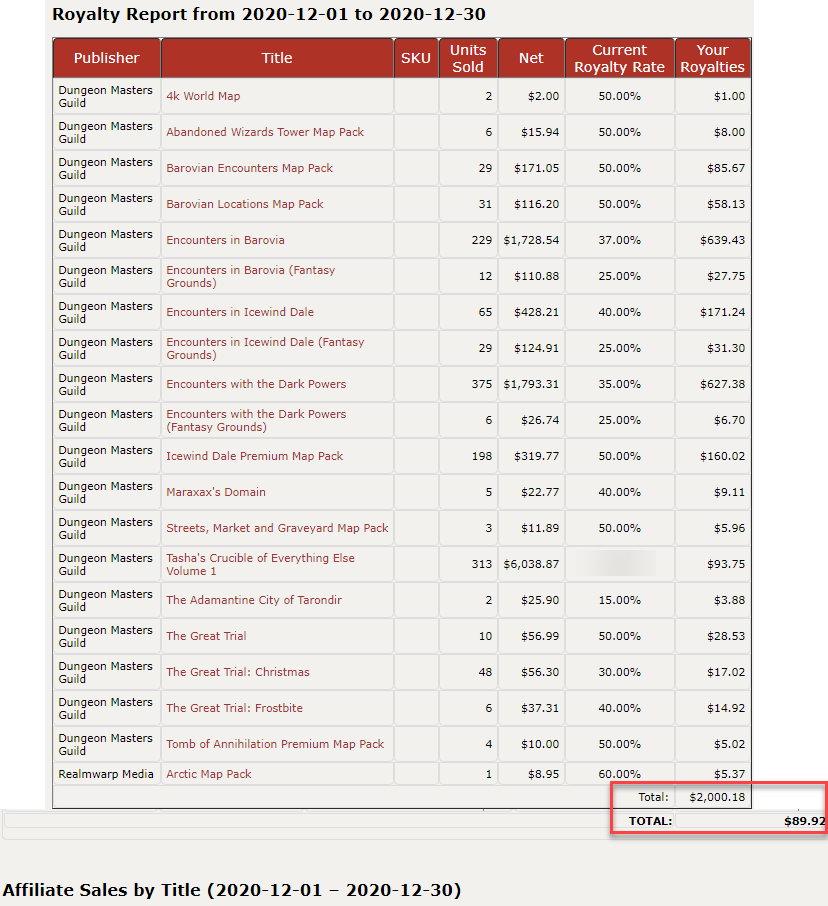 Effort and Dedication
This is the fourth key point. Work hard! All of this was only possible because I took this VERY seriously: I abandoned my PS4, switching my weekly 20h of gaming for 20h of content production, on top of my 40h+ from my day job in IT. I also do my best on each and every product to really deliver quality content. You might not have 20h a week, but maybe you have some time you use in other hobbies or leisure activities. It's a decision you need to make: sacrifice fun times for having fun trying to make money? Is this what you want? Only you can answer this question.
Something else I noticed, and here's my fifth key point: learn to do most aspects of content creation, maybe leaving at most 1 or 2 for other people. This way you can maximize your royalties. Of course, you should go after collaborative projects to network, learn new stuff and work on something you wouldn't work yourself. Collabs are awesome! In my experience, though, I had more financial results from my "solo products". By solo I mean, the ones I came up with the idea and brought an editor and maybe a consultant. But those are usually products in which you earn more than 30% Royalties on them. Once you start thriving, you can invite more people to work with you and support other creators too (e.g. artists, layout artists, cartographers, etc).
Thanks to this effort of 20h a week, I finished the year with my name on 40 titles, considering Fantasy Ground conversion (which are zero work for creators), Bundles and 3 products from other creators in which my maps where used. In terms of actual creations, I did 22 products, among modules, supplements and map packs.
Usually, people from Grim Press contact creators to offer them a conversion. All you need to do is send them a complimentary copy and they do the rest. After a while (usually a short while), the conversion is released and you get royalties on it.
Strategic moves
The sixth key point is about strategy. It surely helped me along the road to take strategic decisions. See what kind of products are missing, connect with the correct people, be curious, ask questions, hype at the right moment and places, use WotC' IP at your favor, etc.
Don't be shy! Promote!
The seventh key point is about marketing. Don't be afraid on promoting your work. I used to use Hootsuite to schedule 4 promotion tweets of different products every day. I now have a Marketing company working with me, so they do that on my behalf. But you need to let people know you exist and that you do great stuff!
Flat Rates
Aside from OBS money, I did some map commission and also one small writing gig, which added USD 490 to the total of the year. A bit more than 10%, which is not too bad!
Financial data
Here are some more graphs to show you the potential of this business. On the first one, you see my monthly earnings considering flat rates. Somehow, I managed to keep the trend up. Then you can see the Quartely graph. Q1 netted me $ 12 😛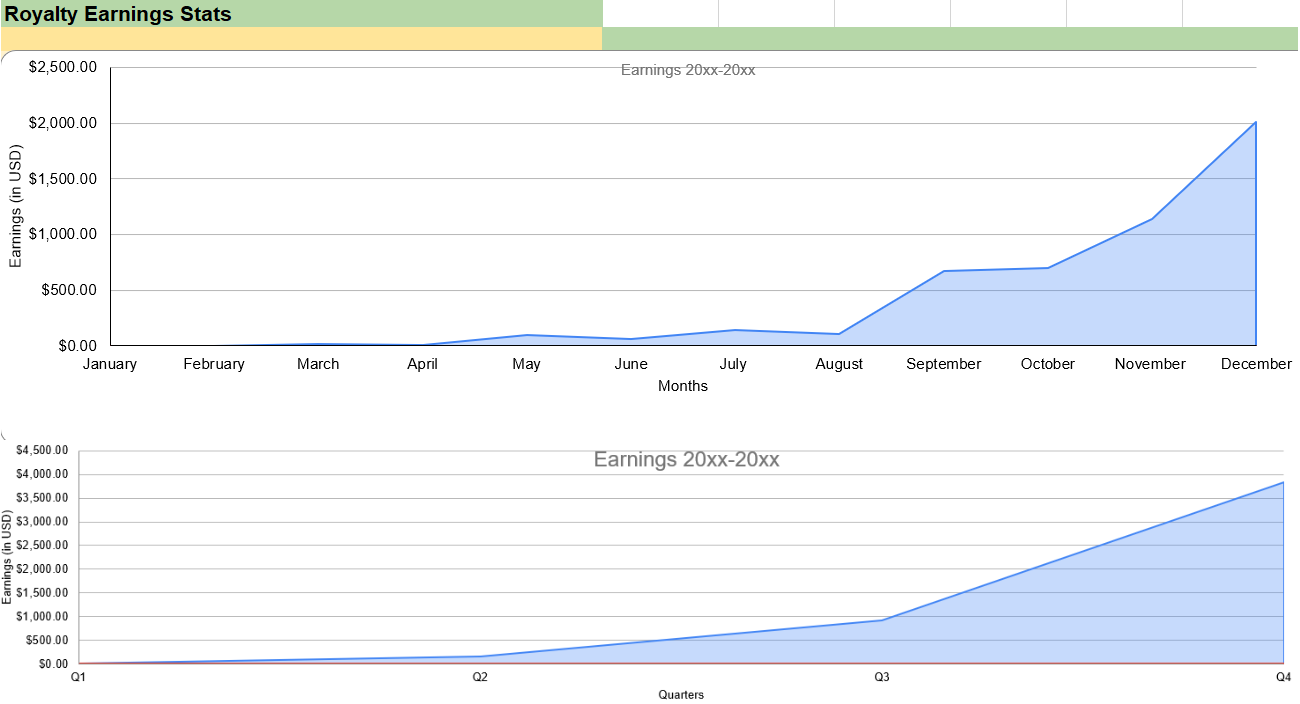 Below, you can see that 25% of my earnings in 2020 came from map stuff!! Not too bad! That's around USD 1.200 just from maps, including commission and map packs.
I didn't mention costs yet. At first, I suggest trying to create products with a little cost as possible. Encounters in Icewind Dale was created as ZERO cost. I profited over USD 1,000.00 with this product up to now.
So far, I'm over USD 4,200.00 in terms of profit, because most of my products are done with low cost. More details on this topic in a later post!
TLDR
Let's wrap this up:
Invest time and effort on building up your Twitter audience. Tips here (Self-Promo Guide by @AshleyMayWrites);
Find a community! The Storytelling Collective has a great one!!
Hire editors! They will make you look better!
Work hard! Your success is proportional to the time and effort you put in this business;
Employ Strategic Thinking! What actions can you take to maximize your success?
Collaborate with other people to network and grow, but also learn as many aspects of content creation as you possibly can;
Talk to other people, ask them what they did and get insights on how they succeeded, so you can decided how you can adapt those insights to your reality;
Promote shamelessly, many times a week! Do not overpromote the same product, though;
Try to spend as little as possible initially to get faster results, and later on you can start reinvesting your profit into the business.
Curiosity fact: while I wrote this lengthy post, my account increase by some $ 15. It's not much, but still, it's 15 bucks more that I didn't have before I started writing!
Hope this helps somehow, and I can be reached via the Contact Form or Twitter and Instagram, along with Facebook too. I usually provide tips on some TTRPG topics, including publishing, so press the Follow button!
I will write more posts in 2021 going into further details of this business. Stay tuned!
If you want to stay tuned on my work, get access to discounts, free maps, register here and gain not only a free map, but a free MAP PACK!